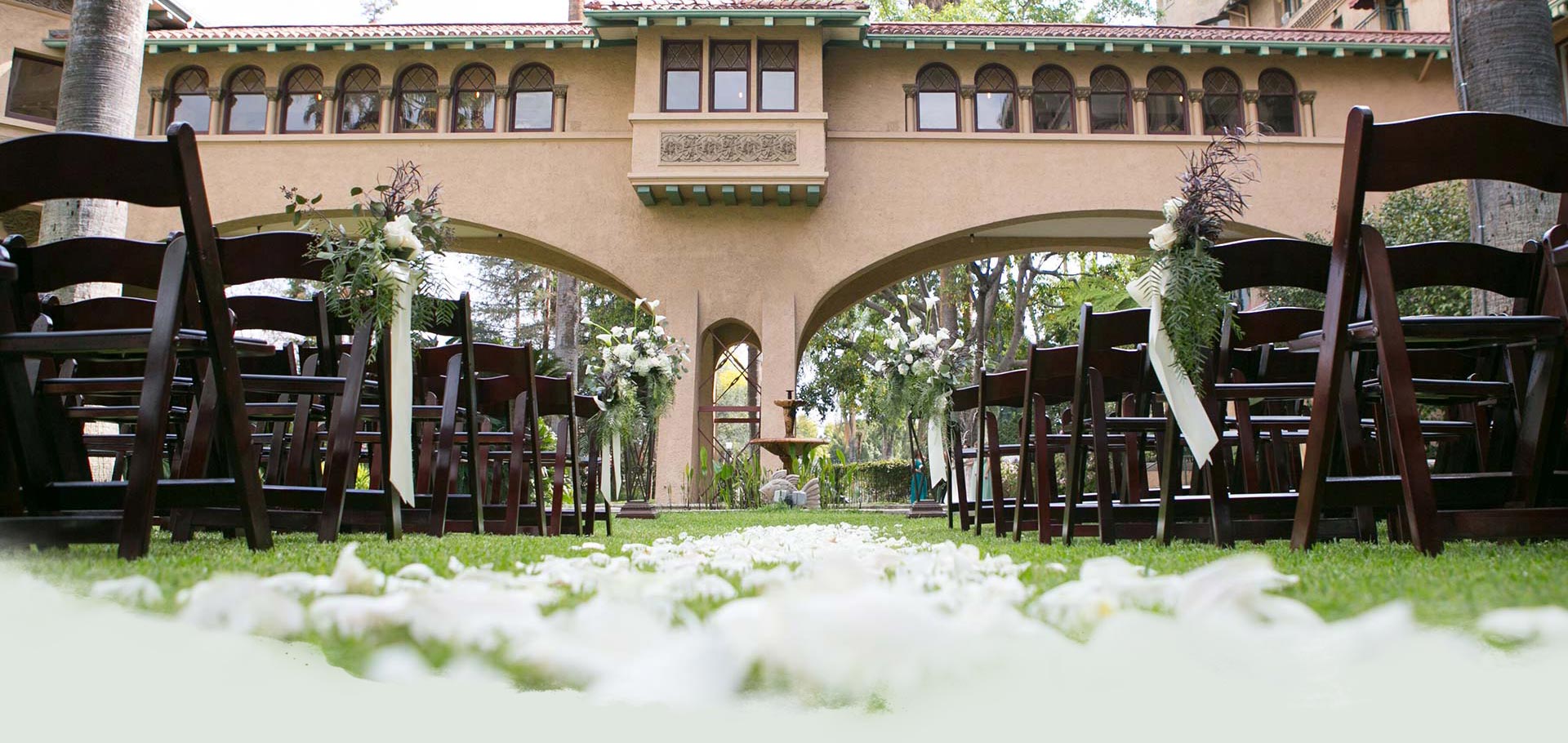 Explore Your Day
This page gives an overview of how your special day will go at the Castle.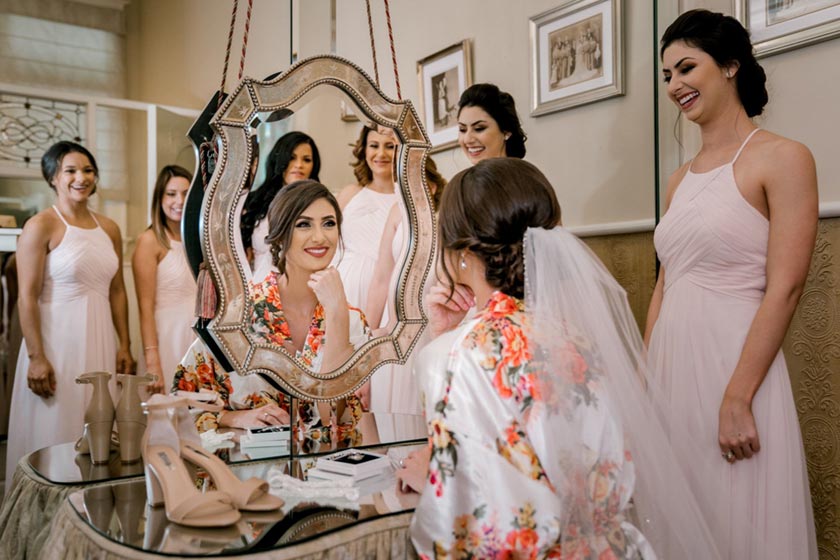 Starting your day at the Castle
The Castle has a beautiful Bridal Sanctuary for your exclusive use on your wedding day.  When you arrive with your wedding party, you can use this space to prepare for your big day.  Getting dressed in your wedding gown, putting your jewels on and taking gorgeous getting ready photos with your wedding party!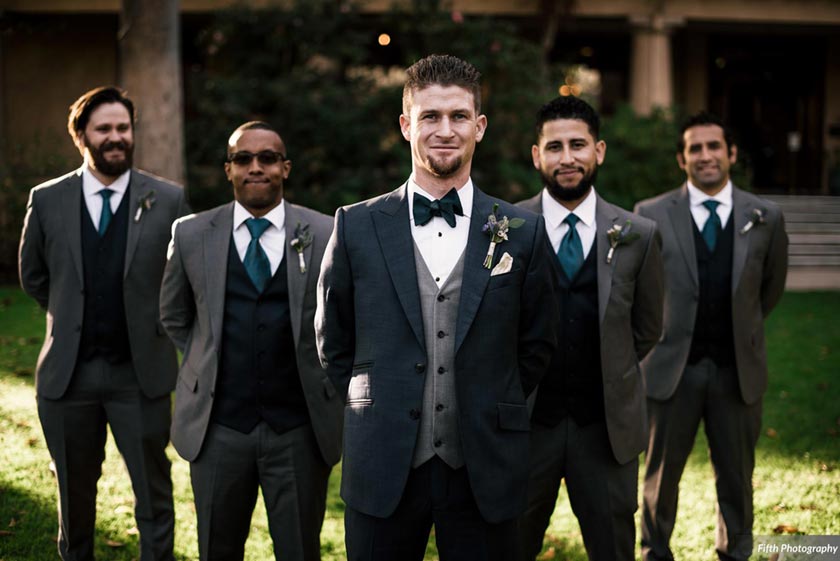 Groom Arrival
Grooms arrive dressed and ready for action! 
First Look
There are so many options for your First Look at the Castle Green!  One the favorites is on our Lobby staircase, with all the natural light and architectural background, you can't go wrong.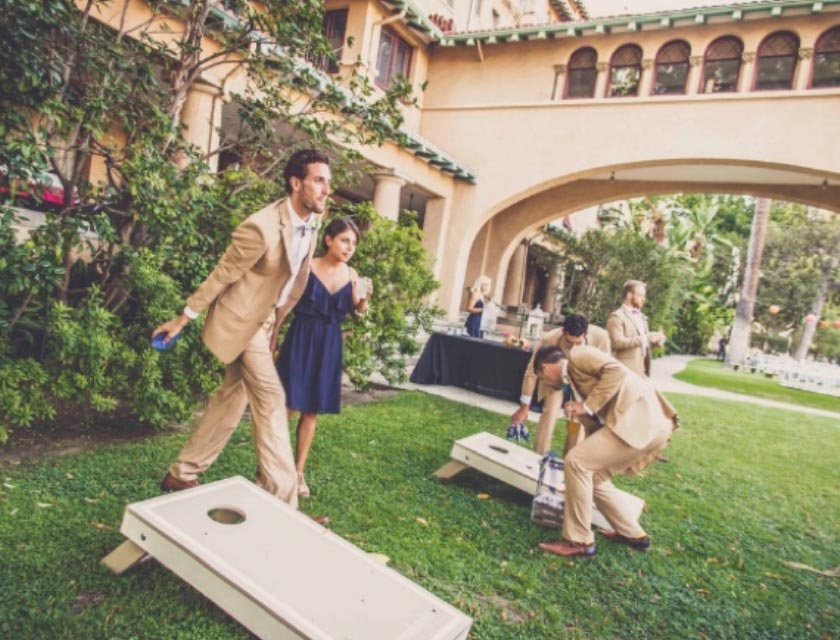 Guest Arrival
On the day of your event, we will have our event supervisor open our gate, on Raymond, a half hour before your event start time.  This allows your guests to wait on our lawns and veranda areas versus the sidewalk. We offer lawn games and suggest having a water station for your guests.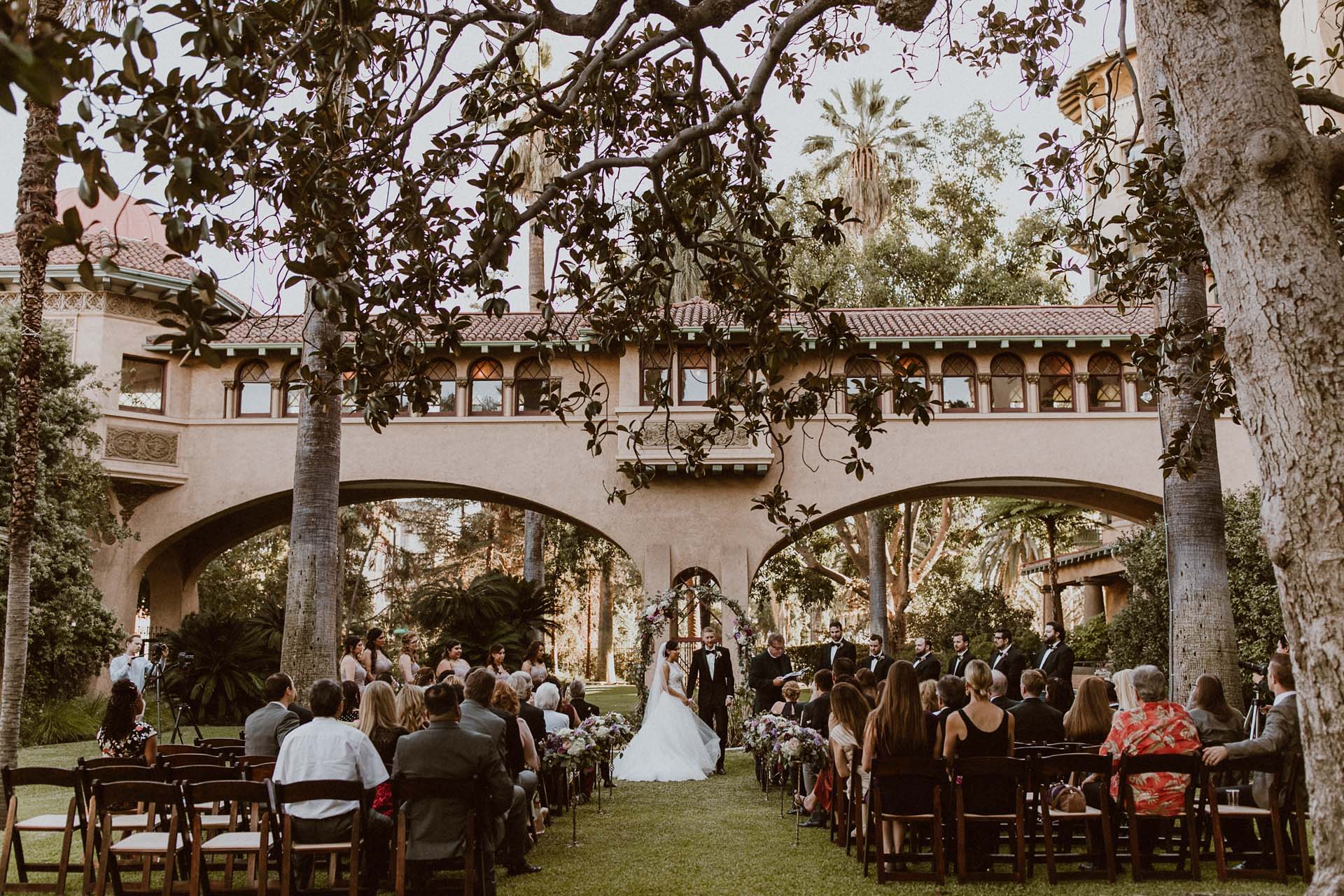 The Ceremony
For your ceremony, we offer many options, including an indoor/rain plan option.  Our two most popular are on our North lawn.  The first option using our iconic bridge as your back drop, the second option is using our Magnolia tree as your main backdrop and also provides your guests a different view of our building. *Please note that our lawn areas face east and are completely shaded, year round, by 4:30 pm. 
Indoor Rain Option
Should you prefer an indoor option, or we have inclement weather, our Ballroom offers a beautiful option for your ceremony.
Inviting Architecture
After your ceremony, your guests will enter our lobby and be welcomed by our gorgeous chandelier, beneath which we have a table to display family photos, florals etc., not to mention our main stairway with huge windows that allow natural sunlight.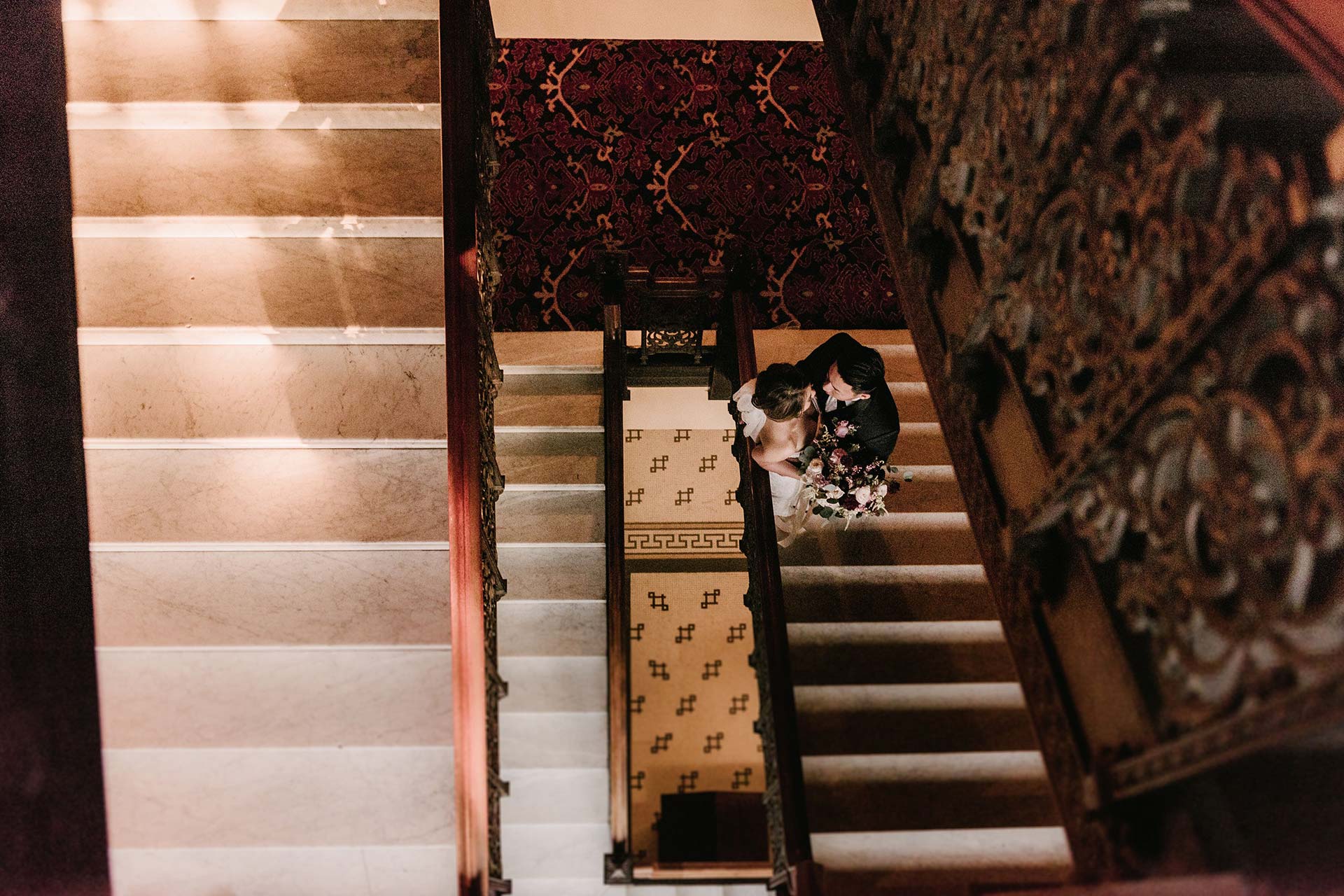 Photo Op
A breathtaking photo op!  Another unique photo op in our Lobby is our open stairwell… you can get some awesome perspective shots.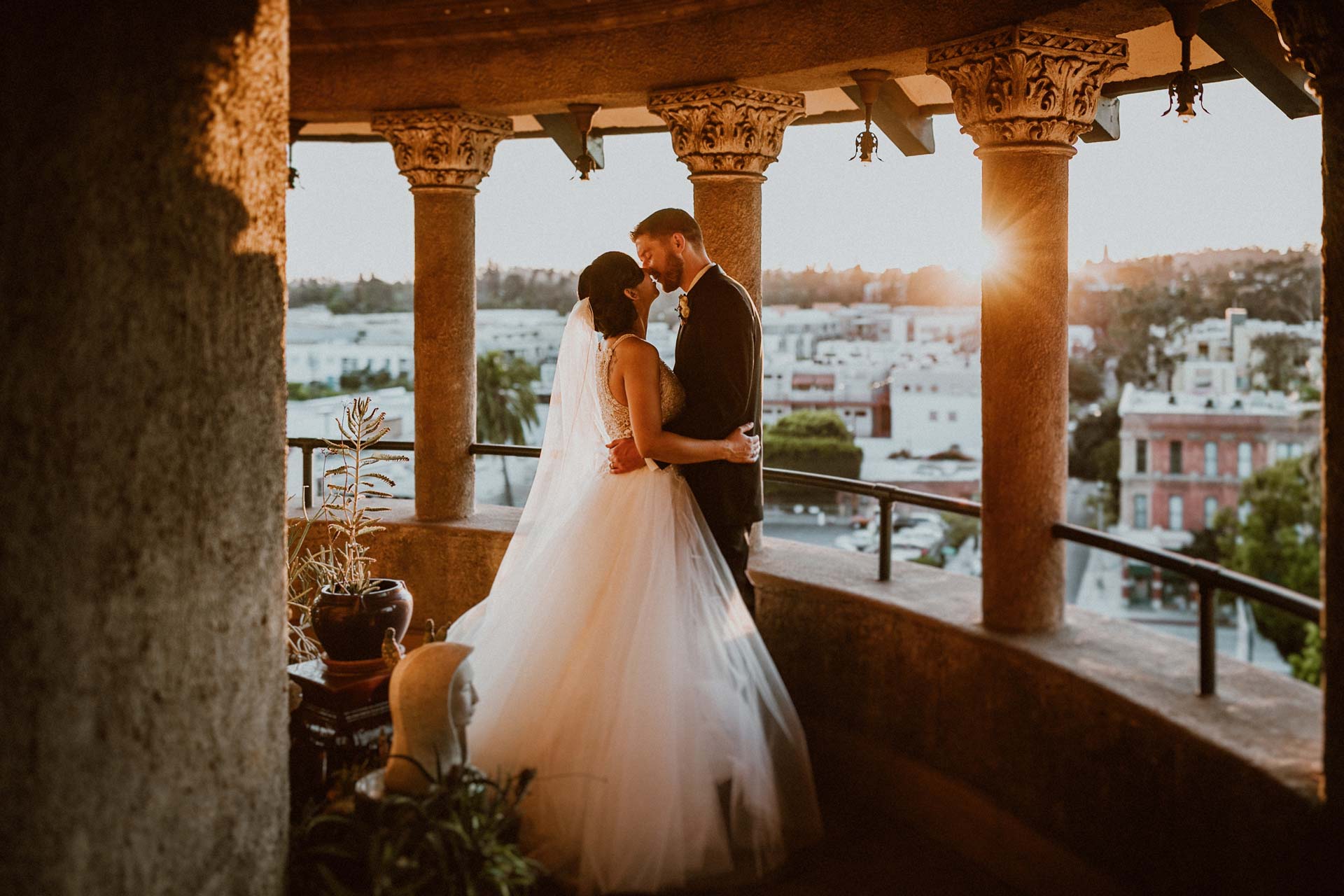 Rooftop Photos
We invite the happy couple to take private photos up on our rooftop. A stunning view of the intricate architecture of the Castle Green and the greater Pasadena area.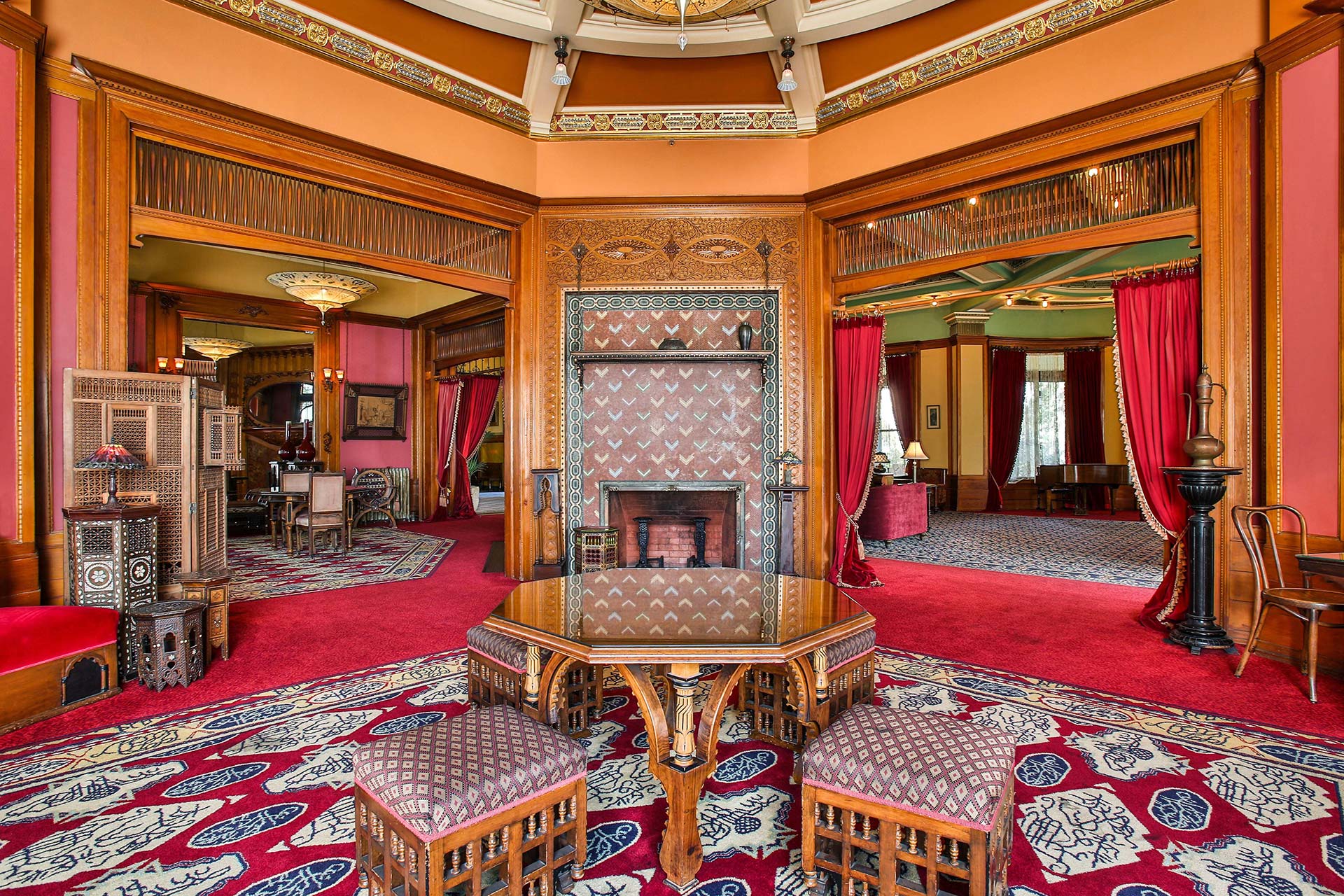 Cocktail Rooms
Our Cocktail areas consist of several rooms which are fully furnished, all of which are available throughout your entire event.  This comes in handy when the dancing begins.  Those guests that would like to have a conversation, sit by our fireplace (weather permitting) or have a glass of wine on the veranda… it is all available.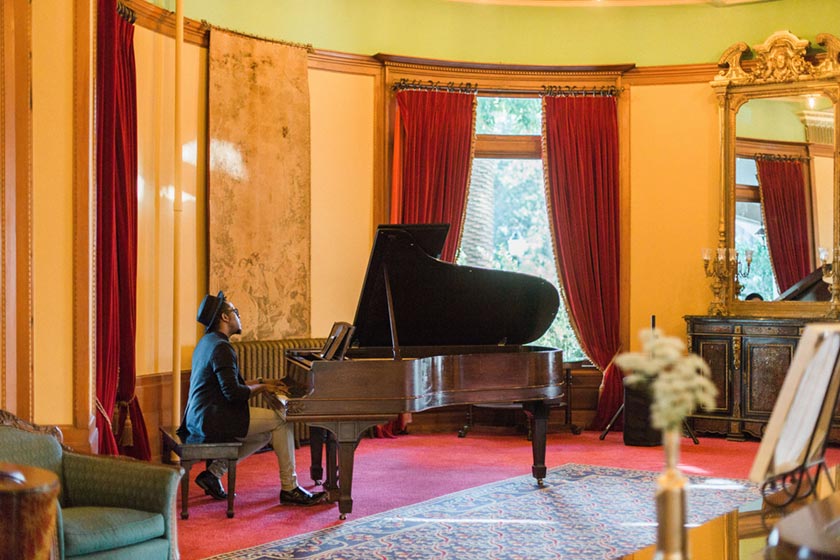 The Sound of Music
Our Salon features a beautiful Steinway Grand piano you are welcome to use or we have a Sonos speaker system throughout the Cocktail rooms. Our Salon has a beautiful huge fireplace that can have real wood fires, weather permitting or if too warm for a fire our Salon is air conditioned.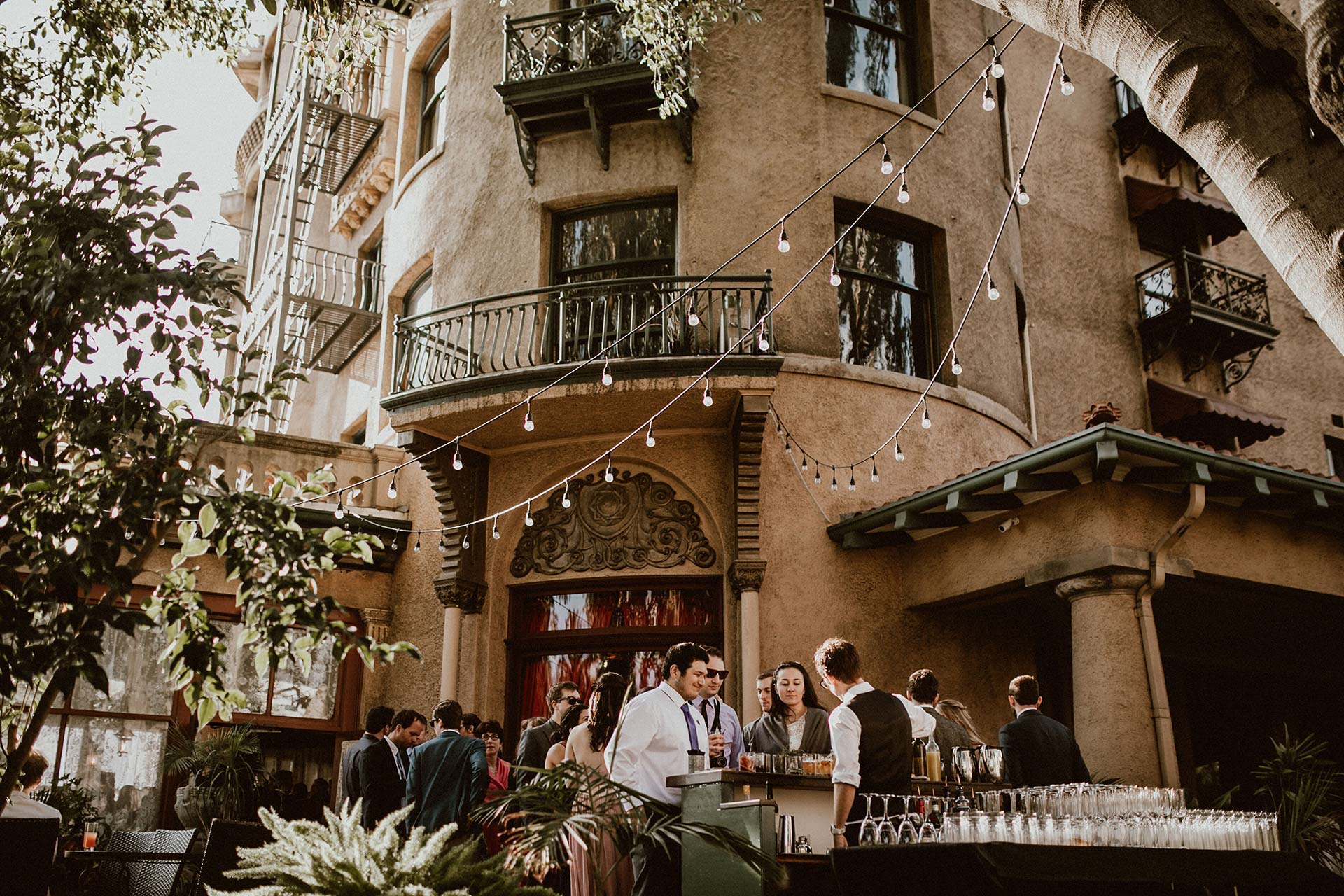 Cocktails
We have two bars during cocktails, one in the Sunroom and one on our Patio.  Our Patio opens onto the Veranda which looks out to our South lawn, providing an indoor / outdoor environment for your guests.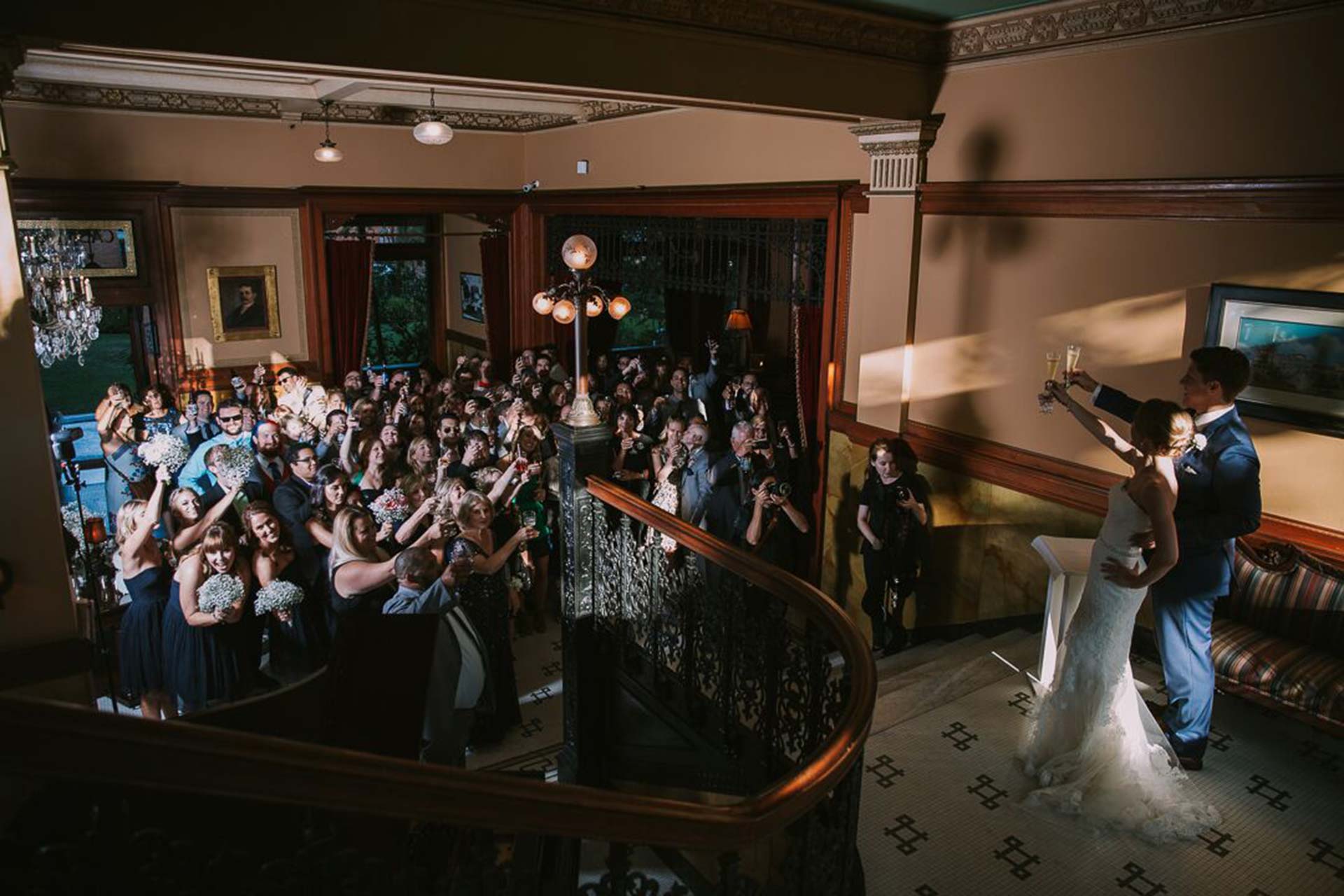 Announcing the Bride & Groom
When Cocktails ends, we will have someone go through the space with hand held chimes.  As the guests move from Cocktails to the Ballroom for dinner and dancing, we can hold the guests in the Lobby and you can be announced, come down the stairs and give a toast to your guests.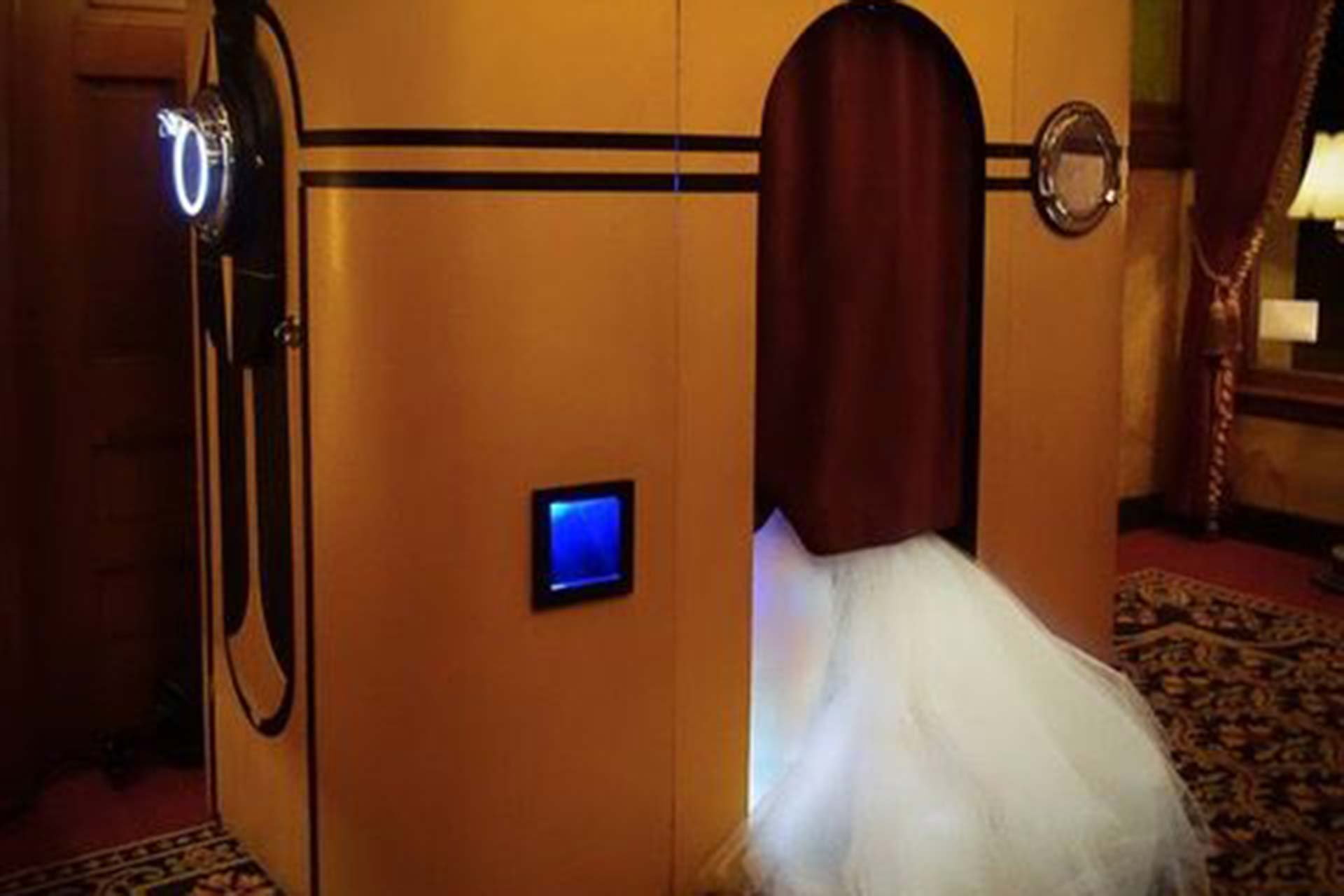 Photo Booth
If you would like to have a photo booth or selfie station, our Library area works beautifully!  The location is perfect as it allows your guests access during cocktails and is just off the Ballroom.
Ballroom Dinners
Our Ballroom capacity is 200 for a seated dinner.  We provide 20 – 60" rounds + gold Chaivari chairs.  We also provide the sweetheart table, cake table and 6 cocktail tables. 
Dance the Night Away
We have a double bar on the dancefloor which really helps keep the party going!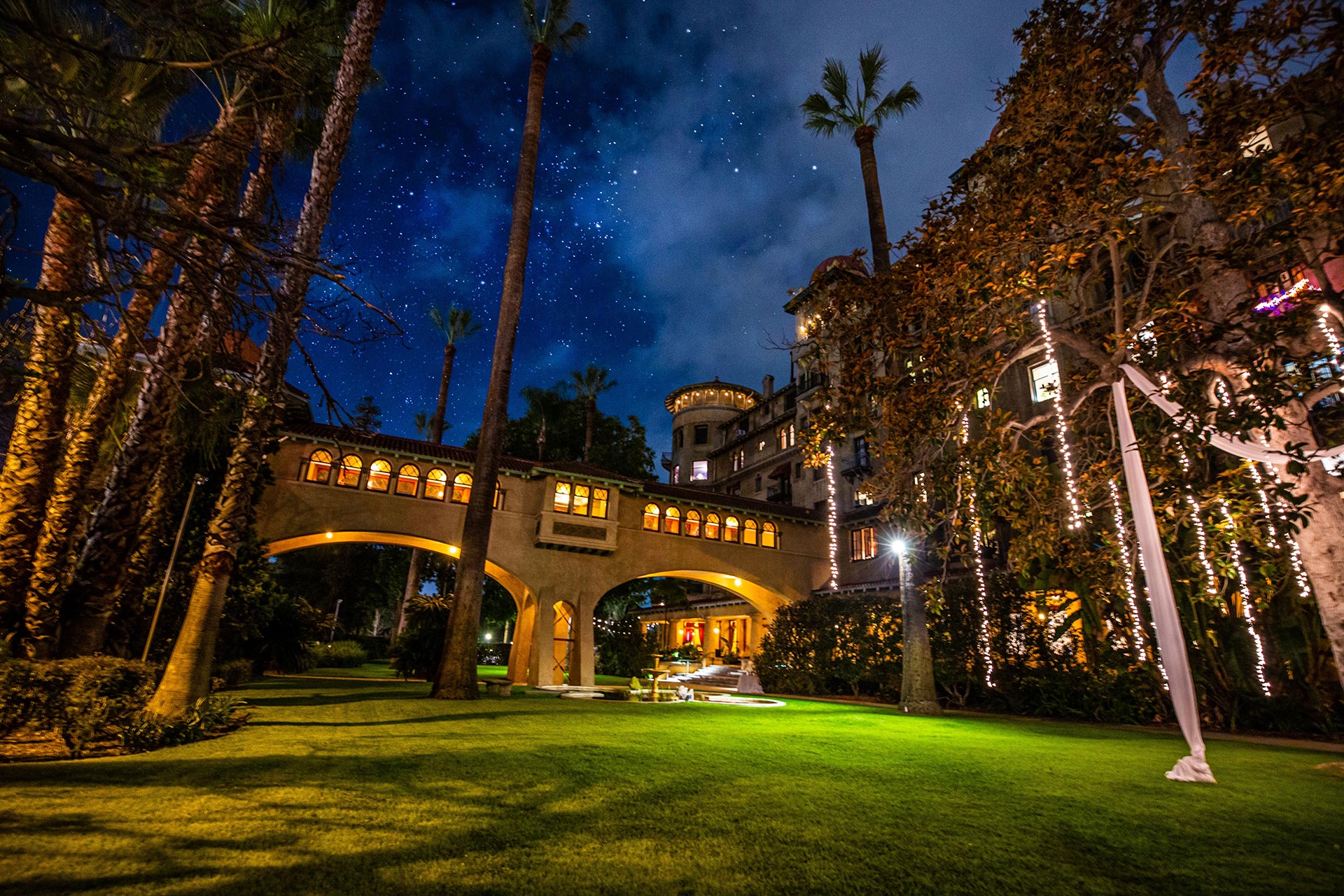 And to all a Good Night
Congratulations!!  Wishing you a lifetime full of happiness and love! Thank you for letting us share in your special day.